Office Hours
Mon-Thu 7:30am-5:00pm
Friday 7:30am-2:30pm
Sat & Sun Closed
Tri Term Medical
Short Term Health Insurance providing nearly 3 years of coverage.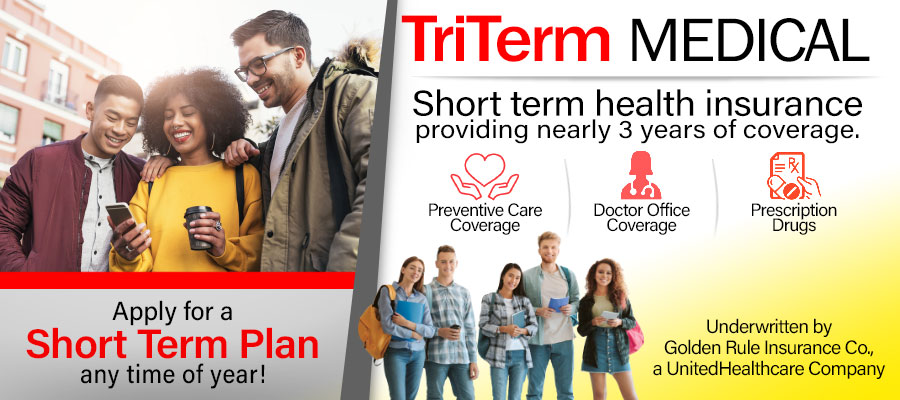 Coverage to fit your clients needs.
When looking for health coverage, don't discount the benefit of a temporary health insurance plan.
Short Term plans are designed to provide insurance coverage ideal for:
Employees in between jobs

Self-employed individuals

Unemployed individuals & their families

College graduates and other young adults not eligible to be on their parents' plan

Those who miss open-enrollment and still need health insurance coverage
Advantages of Short Term Medical:
Budget friendly premiums
Next day coverage - with term lengths up to 12 months
Multiple plans available to find coverage to fit your clients' needs
Access to a nationwide network of doctors and hospitals, with no PCP or referrals required

TriTerm Medical Plans Offer
Preventive Care Coverage
Your clients don't have to be sick to access care with most TriTerm Medical plans. After an initial waiting period, a wellness check benefit is included in each term.
Doctor visits are covered on most TriTerm Medical plans. Copay Select plans include a set number of visits with a copay.
Prescription Drugs
Most plans have prescription coverage. Copay Select plans have a $25 copay for common (Tier 1) prescriptions.
Apply once for 3 coverage terms that add up to nearly 3 years.

Choice of plans and deductibles to fit your clients' needs and budget.

Meet a maximum of two deductibles per family, per term.

Eligible expenses for preexisting conditions covered after 12 months on the plan.



Plans Underwritten by Golden Rule Insurance Company, a UnitedHealthcare company.
Your Clients can Apply for a
Short Term plan any time of year!




Questions?
Give us a call today.
800-366-2467
Not for Consumer Use.
Product availability, designs and term length vary by state. Golden Rule Insurance Company is the underwriter of these plans. FACT membership required in some states. This coverage is not required to comply with certain federal market requirements for health insurance, principally those contained in the Affordable Care Act and is subject to medical underwriting.
THESE PRODUCTS PROVIDE LIMITED BENEFITS.